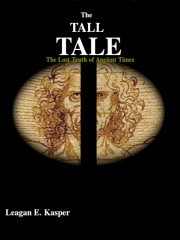 The Book, Monarchs, Religious Leaders and Historians wouldn't want you to read, because once you do you know for sure mankind has been lied to for hundreds of years.
New York City, October 12, 2015 (Newswire.com) - ​​​​​The Lost Truth of Ancient Times is the first volume of Author Leagan E. Kasper's new Book Series " The Tall Tale ", providing readers with an alternative account of history, opposing everything we've been made to believe thus far. Instead of insisting it is the truth, Kasper chose to disclose Revelations about the history of mankind as a fictional tale, leaving it up to the reader to be the Judge. Judging if it's truth or fiction demands no effort, with Kasper's rationally explained version of events seeming far more reasonable than commonly known theories of today.  No slaves, as asserted in The Tall Tale, built the pyramids, transporting rocks by rolling them over tree trunks. How easily desert sand is turned into stone is sensibly described by the author, leaving us to shake our heads, questioning  the common sense of modern day historians. 
Lies are nothing new, but few people are good liars, suggests Kasper as an introduction to The Tall Tale, with bad liars always caught because they have a bad memory. In the 222 pages of The Tall Tale, written from the point of view of a Bee, as it turns out, the bee's memory is perfectly intact recalling how it all began. A bee who was responsible for the first steps of evolution from species to man, clearly remembering the " species " Adam, Seth, Enos until this genus developed into the species of Shem. Each of these species having roamed the earth for several hundred years until evolving into a new species. The Tall Tale ads up like no other alternative history account in recent years, with the millennial ages of Biblical patriarchs finally making sense. The" species" of Methusalah existed for 969 years until evolving into the species of Lamech,  Kasper proposes logically.
The Tall Tale is more than a suspenseful tale of a bee's journey through the different stages of evolution. It's also one of the most beautiful love stories ever to exist, deleted from history books, but kept alive in the memory of the bee, catching Historians, Egyptologists, Anthropologist, Monarchs and Religious leaders with their pants down. A brave work by author Leagan E. Kasper putting a logical perspective on arts and artifacts, every rational human being can agree with, regardless of Religion or ethnic back ground. A book able to bring us closer in seeing eye to eye.